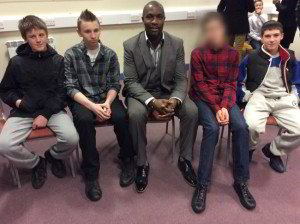 On Wednesday evening 10th February our winning Sainsbury's Kent School Games Sports teams were invited to attend The Canterbury Academy Sports Awards Evening 2016 ( as a section of the evening was for the Canterbury Sports Partnership Presentations).
Orchard School had a very successful Sainsbury's Kent School Games in 2015 as a result

Orchard was awarded Secondary Sports Team of the Year 2014/2015.
Tag rugby 1st

Cycling 1st

Rowing 1st

Football 2nd

Boccia 3rd

Cricket 2nd in group.

21 pupils helped win this award, including 3 primary pupils and each received a medal . 5 pupils attended the event with 2 guests each. They received their award and a wall plaque for the school from Derek Redmond a successful GB athlete in the 1980s and 1990s specialising in the 400m who was the Guest of Honour for the evening.

Congratulations to all pupils who helped Orchard win this award.
Gaynor Harvey

Head of P.E.